COMMUNITY BASED FASHION
​
HOUSE OF ALL is not a brand, but a movement in the making!
Together with you, we want to design a better way of fashion. One, where nobody is left behind. One, that prioritizes Mother Nature.
All can borrow clothing from the community pool.
All can participate in the design process if they wish.
All can have a say in shaping our future
We are All. Wear All.

ABOUT US

House of All is not an ordinary brand, it is a holistic model for the stewardship of clothing.
Our approach strives for local circular economy, where clothes are designed, produced and used in small communities according to principles of circularity (cosmo-local manufacturing). This promotes regional needs and reduces the influence of mass production. Through the communal use and care of the clothing, we create an inclusive ecosystem that does not disadvantage anyone.
To achieve this, we rely on the principle of commoning and the values of open source. Similar to Solidarity Agriculture, we share the costs and use the resources collectively. Transparent designs and community participation can reduce development costs and promote sustainable fashion.

​

​

​DESIGN
​"Everything that is designed, designs and subjugates. Design is fundamentally shaped by this dichotomy. It conditions freedom and lack of freedom, power and powerlessness, oppression and resistance. It is the political essence of design." (Friedrich v Borries) Design is responsible for the way we deal with things, the relationships that result from them and, in all consequence, the structures of society.
We invite everyone to participate in the design process and to contribute in co-creative processes to bring textiles into the loop according to the needs of users. Design as co-creative practice: Community Based Design.

​At our location in Hamburg, the HALL4CRCLRTY, we have set up an Open Lab 4 Circular Textiles & invite you to engage with the processes of textile manufacturing to meet the challenges of our time with responsible design.


​
THE LAB
is a place for experiments, where designs can be created and optimized in a hands-on setting.
With our wide range of equipment, we enable independent designers to produce small series under the premise of sustainability.
The Lab can be used via membership as part of our community. Additional services can be booked according to individual needs.
You can also book one-off use of specific machines including design services.​
Previous
Next
​

WEAR
The House of All is not about owning clothes, but about communal use, about handling the value of "sustainable clothing". We make clothes available in a common pool. Here you can borrow and change clothes as often as you like. This gives access to sustainably produced clothing that would normally be unaffordable, and together we reduce the waste of resources.
We are currently in the process of designing the new website and technically simplifying the process. In addition, we would like to optimise the system together with local Design Talents. To do so we now enable 6 Designers to lend their clothes via the pool. From spring 2023, the pool will be open to everyone.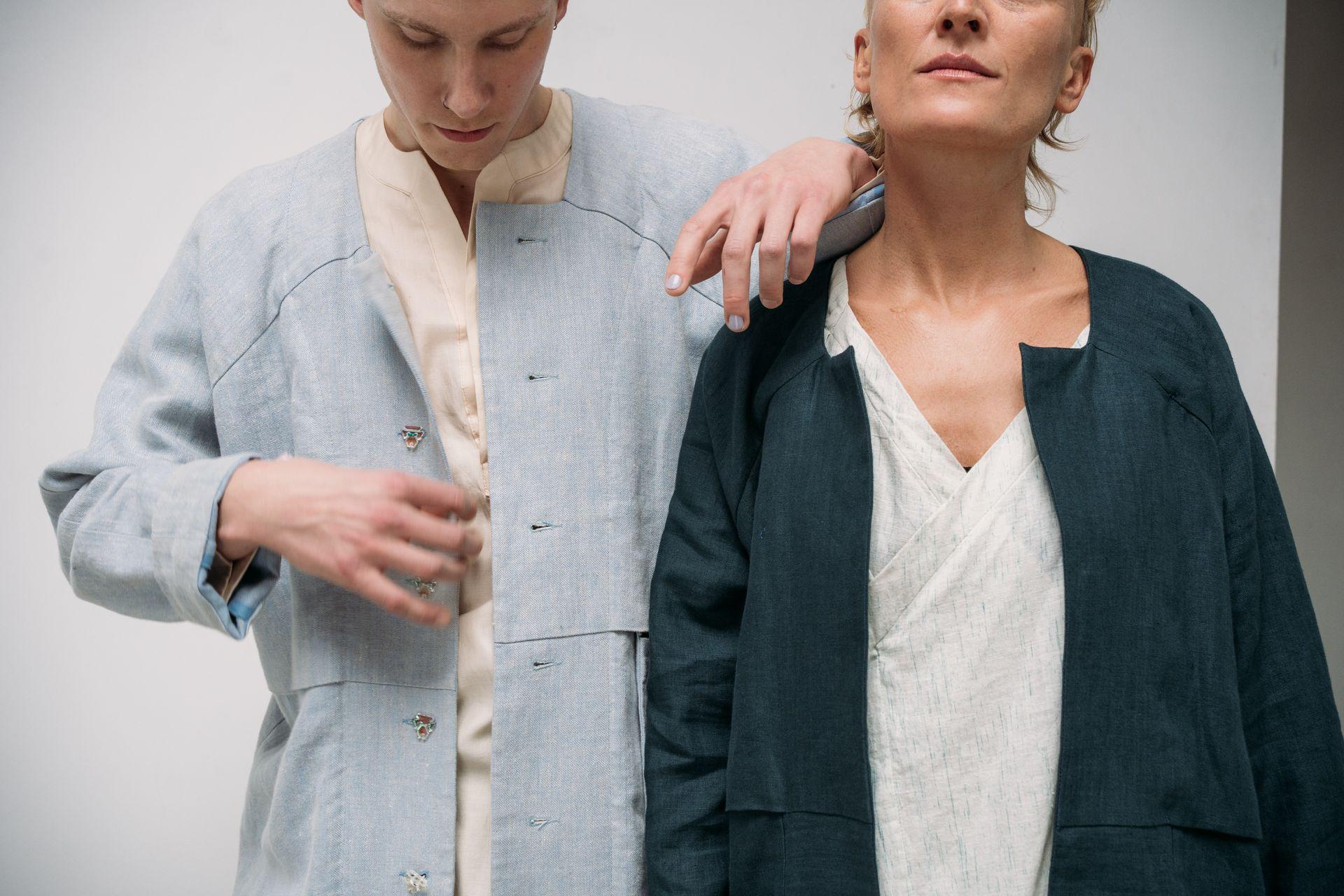 CARE

Without people who care, who care urgently about how we treat clothes, all the marvellous developments in textile sustainability are of little value: knowledge has to be found, and then passed on. So this section covers everything related to background knowledge, education and research around textiles, which are crucial to realising our vision. In the Lab, you can participate in workshops as well as give workshops yourself.
​Together with local craftsmen and the Chamber of Crafts, we are investigating the opportunities and challenges of local textile production. This also involves the use of regional materials and the creation of a circular system. Our goal is to increase the demand for local production and regional materials in order to support local garment makers and to promote the concept of the local ecosystem. Cooperations and collaboration play an important role in this.


​Saying that, since 2022 House of All has been a cooperation partner of Helmut Schmidt University in a research project called DTEC under the title: Fab City Hamburg. We want to figure out how it can become possible to become a Fab City and achieve the declared goal of the Fab City foundation by 2054: To manufacture all consumer goods, including textiles, within a 50km radius of the city. A place of many possibilities where you are invited to realise your own projects. Together we are on the way to a circular city where everyone can produce (almost) everything.

Previous
Next
OUR VALUES
LET'S ALL CELEBRATE CREATION
C

IRCULAR
Following nature we follow circular pinciples in everything we do. That means we are conscious to reuse, repair & recycle everything and keep it in a closed loop. Because we
love our Earth, and have no Planet B

R

EGIONAL
We believe in strong communities. Our goal is to decentralise fashion and become radically regional. For now we are just glad to use European materials with few exceptions. If we
may save valuable materials from wasteland we support our local dealer and let you know. The transormation requires a shift in consumerism, breaking the global supply chain and involves research into new materials.

E

ARTH LOGIC

As opposed to Growth Logic. We follow the urge and love Earth enough to put HER first in all decision making. The plan suggests an uncompromising deadline of ten years until all
resource consumption must be reduced by factor 4-20, that's 75% - 95%. And they know! (Fletcher, K. & Tham, M (2019): Earth Logic. Fashion Action Research Plan, London, The J.J.
Charitable Trust https://www.earthlogic.info)

A

UTHENTIC
What you see is what you get. We are all working on the same plan and have no time for selling "cats in bags" or brainwashing you into buying stuff you don't need with false promises. Remember, we don't want to sell anything, really. It's share, wear & care.

T

RANSPARENT
We share our secrets and make information available to you
regarding everything from company internals to supply chain.
Because we strongly believe you should know since these
details are empowering you.

INCLUSIVE
House of All is for all humans. Applying our community based
design method means you all can get involved. House of All aims to make sustainable clothing affordable & accessible to all of you. Every single one, no matter what background, age, size or political views you have (no time for fascist, racist, homophobic behaviour EVER)

OPEN SOURCE

Open source is a powerful way of cocreation not only enhancing product feasibility through crowd development but also creating emotional value: being the creator of something implies personal commitment to care

N

OURISHING
From relationships to nature, materials, machines, education and research: we believe in the interconnectivity of all, in resonance. So for best results let's strive to foster healthy development of all: ourselves as well as everyone and everything else around. It also means we are keen to help educate young humans to aid a better understanding of global supply chain issues and related implications, foremost though to offer ways to act and change the system that's destroying their future.